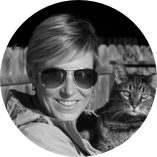 THE LONG STORY
What I am about
I love designing for web because you can change it at any time - I have always loved that flexibility about it. I have a passion for finding solutions to problems and overcoming perceived obstacles. I have an ability to listen to a client describe what it is they know, do not know, and know that they do not know, and glean the feeling they want to convey out to the world, and then translate it into a concrete, visual deliverable that nails it. I will be your eyes & hands, and will create something out of nothing, somehow magically channeling your very thoughts. All the while, building a flow to your web experience that is frictionless and delightfully attractive. Your viewer has a great experience, while you build credibility online. It's a win win.
I am also a technician at heart, a lover of details, and to me, every pixel counts. Especially when digital real estate is so valuable. You have three minutes to capture your audience – make sure every pixel counts. That includes white space and legibility. And when a designer pours their heart and soul into their layout, when it goes to press, the result should be 1:1 between design and development. Not close. Not really close. Perfection. I know I am doing it right when I can't tell which is the layout and which is my html page.
My adventurous history
Over the years, I have accumulated not only a lot of knowledge about the different aspects of web design, including websites, display advertising, email design and interaction design, but I have lived through phases that have come and gone, and I have grown with the technology. I started out teaching myself web design (having already procured a BA in Communication Design/illustration from Pratt Institute in Brooklyn, NY), and found that I loved the medium. I did visual design for a while, until the first dot com bust in 2000. There was no work out there, (I watched my talented friends in the industry go jobless for years), so I jumped into print design and production with a major retailer for about 5 years, until the web space was back up and running, and healthy.
When that retailer dissolved, I embarked on my journey back into web, and rode a wave of successes that started with being recruited by Communication Arts Magazine (CommArts) to design and build their very first online competitions submission microsite. That is where I got my first taste of interaction design, having spent the first 4 months or so just designing the flow of the site. I loved the challenge of making the complex process easy to understand and use. There I also followed their brand guidelines to create their new, integrated microsite.
Another success was being swept up by Google by way of the acquisition of the startup I was working for called Teracent. Teracent was the first technology to use targeted marketing by using user data to inform delivery of display ads. So, off to the Google campus I went! It was exhilarating, and I was proud to be a Googler. I was integrated into the Rich Media department, where we joined Doubleclick and worked in tandem to develop these targeted ads. While I was there, our team developed the YouTube mastheads that now earn Google around $137M/year. I spent the better part of a year there designing templates for DIY display ads for low- to mid-tier clients, to further automate the process and give these advertisers better tools for attractive and successful ads. I was also creating bespoke dynamic display ads for top-tier clients such as Scottrade, Adidas, and Travelocity.
After Google, I flipped back to my original vocation of digital photo retouching at Gap for three years, being the main retoucher for product and on figure images on the Banana Republic Factory website. I also worked with their other brands, Gap, Gap Factory, Old Navy, and Athleta.
After which, I moved on to a fabulous start up called WorkSpan, where for all intents and purposes, I was the Design Department. In collaboration with a remote design agency, I was responsible for all design aspects of the Enterprise SaaS, from working on the design and development of the app itself, including interaction design, user experience, wireframes and prototypes, to designing and developing the public facing website and all the collateral needed for trade shows.
And now, I am looking for great new projects to work on!
RESUME